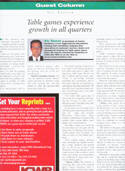 Article for IGWB supplement on Table Games July 31, 2004
Table Games Operations Casino Training
By: Vic Taucer
New Trends in Table Games
"Its an International movement"
" New Strategies and Ideas to make Table Games more interesting & productive"
The best table games operators have developed successful new strategies and ideas to make Table Games more interesting for the players and more productive for the casino. New twists on old games, new games & gaming areas, innovative bets and criteria that are designed to get more productivity out of the live gaming product are being implemented world wide as all of a sudden, table games are hot!!
It used to be the gaming world would look to Las Vegas for the new ideas that all copied and emulated to grow their gaming product. While Las Vegas is still the pinnacle that most gaming companies aspire to emulate, in table games, the growth is coming from other sources.
While in Las Vegas, table game play is growing also for reasons I will discuss, the true growth and implementation of new Table Games play is coming from areas outside of Nevada. Both in International and in Native American Casinos, table games are not just surviving, they are thriving. Heres are a couple of real growth areas for Table Games:
British Columbia: Table Games play is surpassing slot play!
In British Columbia in 2004, the regulatory system has allowed for the casino operators to introduce Craps into the casino mix. Recently, my company, Casino Creations has completed Craps training courses in Vancouver, training craps dealers and supervisors for the major casino operators. Craps was introduced into the province earlier this year.
The advent of craps has spurred table games play in general at the major casinos in Vancouver. The games are a big success, introducing this game into an already fervent table game area. The Great Canadian Casino Company's new resort in Richmond opened this June with craps games in place. The revenue expectations are being exceeded and all are pleased.
Rob Macintyre, Table Game Director for this Canadian gaming giant, stated his feelings recently in an interview. Rob said " Craps is generating revenues exceeding our expectations" and if floor space allowed, we would put in more games than the initial two". Rob also stated that Great Canadian would also introduce Craps in their other provincial casinos.
"Our other table game play is increasing also, surpassing slot revenue in some areas", said Macintyre. "Our table game play is kicking butt!" is a quote from a happy table games department.
In Vancouver another table game product is really a home run. In Vancouver casinos, a new version of an old table game is growing play in leaps and bounds. British Columbia casinos are using a version of Roulette, combining the basic game and video technology to grow Roulette play.
Electronic, touch screen video Roulette games, utilizing a live Roulette game with satellite video screens are being used to allow more players to play a standard roulette game. Normally, Roulette can handle up to 7 players at the live game, using video technology, these touch screen games with terminals can allow as many other players as the casino wishes to play the game. One live Roulette game with a dealer, allowing 50 players at one time is happening in British Columbia with great success.
" Our Roulette games utilizing video terminals is rapidly becoming a major producer and growth area in all of our casinos.," said Rob Macintyre of GCC. If space allowed and we could remove other products (read slots!!), we would put in many more electronic Roulette games was stated.
In BC, table game play is exploding!
Macao: Table Games are King!
The gaming world is watching this soon to be gaming giant rapidly on its way to becoming the gaming giant its new legislation allows it to be. Casino operators such as the Venetian casino in Las Vegas and Steve Wynn have opened or will open casino mega-resorts soon. These mega-resorts will have a common denominator, the will be heavily skewed in favor of Table Games!
Unlike North American casino players, the Asian market is chock full of Table Game players. The live gaming component of casinos in Macao are where the action is, much different that Las Vegas. Most North American casinos derive the majority (some times up to 90%) of gaming revenue from slots. The majority of casino revenue in Macao by far is coming and will come from table games.
A recent opening of the Sands casino in Macao was swamped with table games play. Two or three deep players at the games were and are common. The Sands opened with 319 Table games and 600 slots, a ratio of 2 slots for 1 table game. To get a comparative look at the difference between this and a casino mega-resort in Las Vegas, most large casinos have at least a 20-1 ratio of slots to table games, sometimes much greater.
In Macao, table game play is exploding!
US Casinos & Table Games Growth: Poker is the 800-pound Gorilla!
After years of seeing the table game portion of our casino mix shrinking more each year, television coverage and a nationwide "poker craze" are feeding a new growth trend in table games. Casinos nationwide are expanding the table games floor by initiating (or sometimes bringing back) poker as a viable table games product.
What is spurring this table games growth
Why is this happening? Why are casinos devoting more floor space to a table game product that was deemed "undesirable" in the past? The greatest current aspect or newest event that is helping (and will continue to help), decreasing table game interest and revenue is the current popularity of Poker. The re-birth of this game, that a decade ago was basically eliminated from most casino floors, is causing a dramatic rise in interest in Table Games
The fact that this game is being presented to the nation as a seemingly ever-present television event is drawing new players that years ago wouldn't touch a table game with a ten-foot pole! Television is presenting poker as a "cool thing"; the other table games are also being seen as also an in thing to do. Much different than years ago where
Playing table games was perceived as being similar to driving your grandfathers Buick!
It's about time table games got "cool" again!....
US Casinos & Table Games Growth: The changing role of the table games staff!
More and more casinos are changing the role of the table games staff to be more reflective of the industry we have evolved to. Casinos are trying to hire and/or re-training their table games staff to be more reflective or the entertainment industry we are in. Casinos nationwide are realizing that their front line staff (read dealers) has to start thinking of themselves (and react accordingly) more like entertainers and less like factory workers. Isn't that the business we are in?
I deliver my training program, The Dealer as Entertainer, as basically a "wake up call"; to dealers to insure they both think and interact in an entertaining fashion to insure growth of table game play. The program works and I will continue to deliver this message to all table game staff. It is tantamount to survival.
Some casinos have taken my message to the extreme. Last year, the Imperial Palace introduced my concept of The Dealer as Entertainer to a degree I did not even imagine. The Imperial Palace last year introduced the Dealertainer, a cross between a stage performer and a dealer. Using cast members of the Legends of Las Vegas celebrity look-alike show as dealers, these entertainer perform in costume nightly as Blackjack dealers. A real home run for the IP.
I am glad my message was received. Thanks for reading Imperial Palace!
Vic Taucer is president of Casino Creations; a Las Vegas based casino educational, training and consulting company. Casino Creations specializes in customer service, dealer training and managerial training for table games operations.
Look for Vic Taucer's new book, Table Game Management, available at booksellers nationwide.
A former professor of casino management for the University & Community College System of Nevada and long time casino manager at many resorts, Vic can be reached at 702-595-7800 or at www.casinocreations.com
All articles are under copyright @ protection
HOW TO CONTACT CASINO CREATIONS:
If you are interested in securing the services of Casino Creations or for any questions on casino issues, please contact:
Vic Taucer, President
Casino Creations
3095 Montessouri Street
Las Vegas, Nevada 89117
Phone: 702-595-7800
Fax: 702-221-8418
E-mail: vtaucer@casinocreations.com
All Contents © 2004 Casino Creations
3095 Montessori Street, Las Vegas, NV 89117
(702)-595-7800 info@casinocreations.com